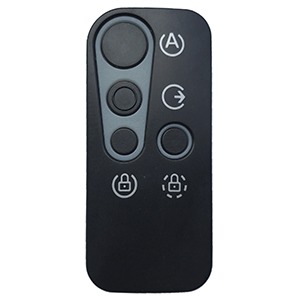 We have just released the new PREMIUM remote control, compatible with our EvoDrive and e-motion sliding door operators.  With a better and more ergonomic design than the previous model, this remote commands the door by pressing any of the 4 buttons, to select the desired operating mode.
Another advantage of the new remote, is that the receiver and its antenna, are already integrated inside the control panel of the operator, without any visible antennas coming out from the main controller, which dramatically improves its reliability and performance.
Delivered with every door, this remote allows the end user to select any of the following operating modes:
Automatic

Open

Close

One way / Access control
In "Automatic" mode, the door will open and automatically close when the door is triggered by means of a sensor, radar, push button or even "Push & Go".
When the door is set to "Open" mode, the door will open and stay in that position until a new operating mode is selected.  In this mode, the door can slide manually, just like a standard manual door. Ideal for cleaning the door leaf, or when you want to simply keep the door open.
If the "Closed" mode is selected and the door is equipped with an automatic lock (optional), the door will close and stay blocked until a new mode is selected.  The automatic lock is "fail-safe", meaning that in the event of a power failure, the lock will be released, to allow the door being opened manually.
In "One way / Access control" mode, the door will be blocked by an automatic mode when this comes to close position. But in this mode, the sensors or activation devices of one side of the door will be enabled (the door can be activated), while the sensors on the opposite side of the door will be disabled.  This can be also used when the door is connected to an access control system such as a card reader, finger print reader, numeric keypad, RFID readers, etc.  Use this mode when privacy is required, like in office rooms or operating theatres.