Automatic Sliding Door For Interiors
With

magnetic linear motor

technology

Ultra slim door track: 

60 mm high x 70 mm deep

Clear width up to

1400 mm

(single) |

2800 mm

(double)

Door leaf up to

80 Kg

Single slide or bi-part opening

Smooth and

silent

movement
Aesthetic Design
Housed compactly in a sleek aluminium casing that measures only
60 mm x 70 mm

in cross-sectional area, the reduced dimensions of the

EvoDrive+

takes up a fraction of any other traditional automatic door operator. Its elegant unobtrusive design also allows users to enjoy the safety and convenience of having an automatic entrance without compromising on aesthetics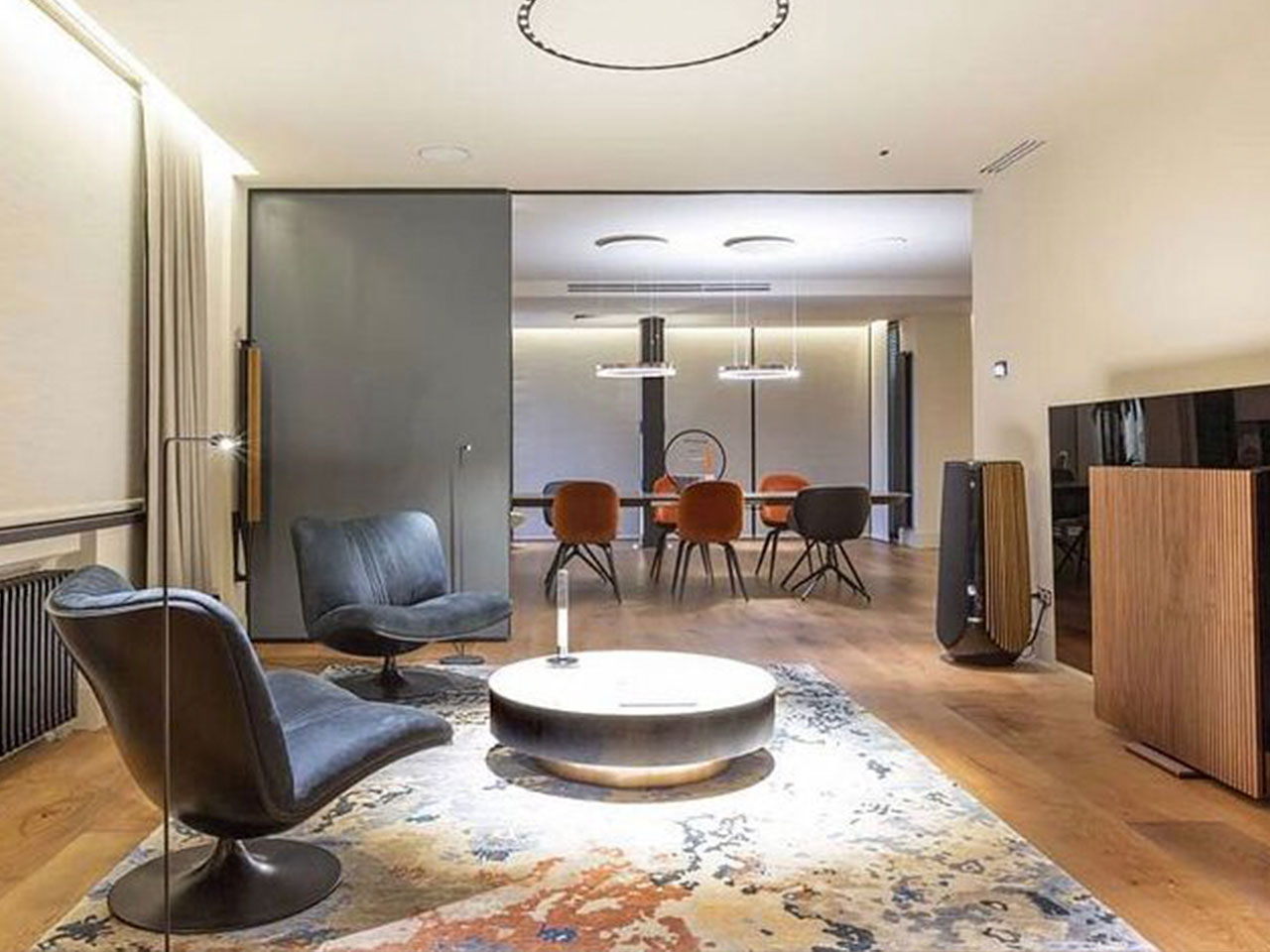 Silence in Motion
Powered by magnetic fields rather than mechanical action, the friction is dramatically reduced, which results in a smooth and silent movement. This makes the
EvoDrive+

the ideal automatic door for use in private residences, hotels, care homes and other internal applications where a silent environment is required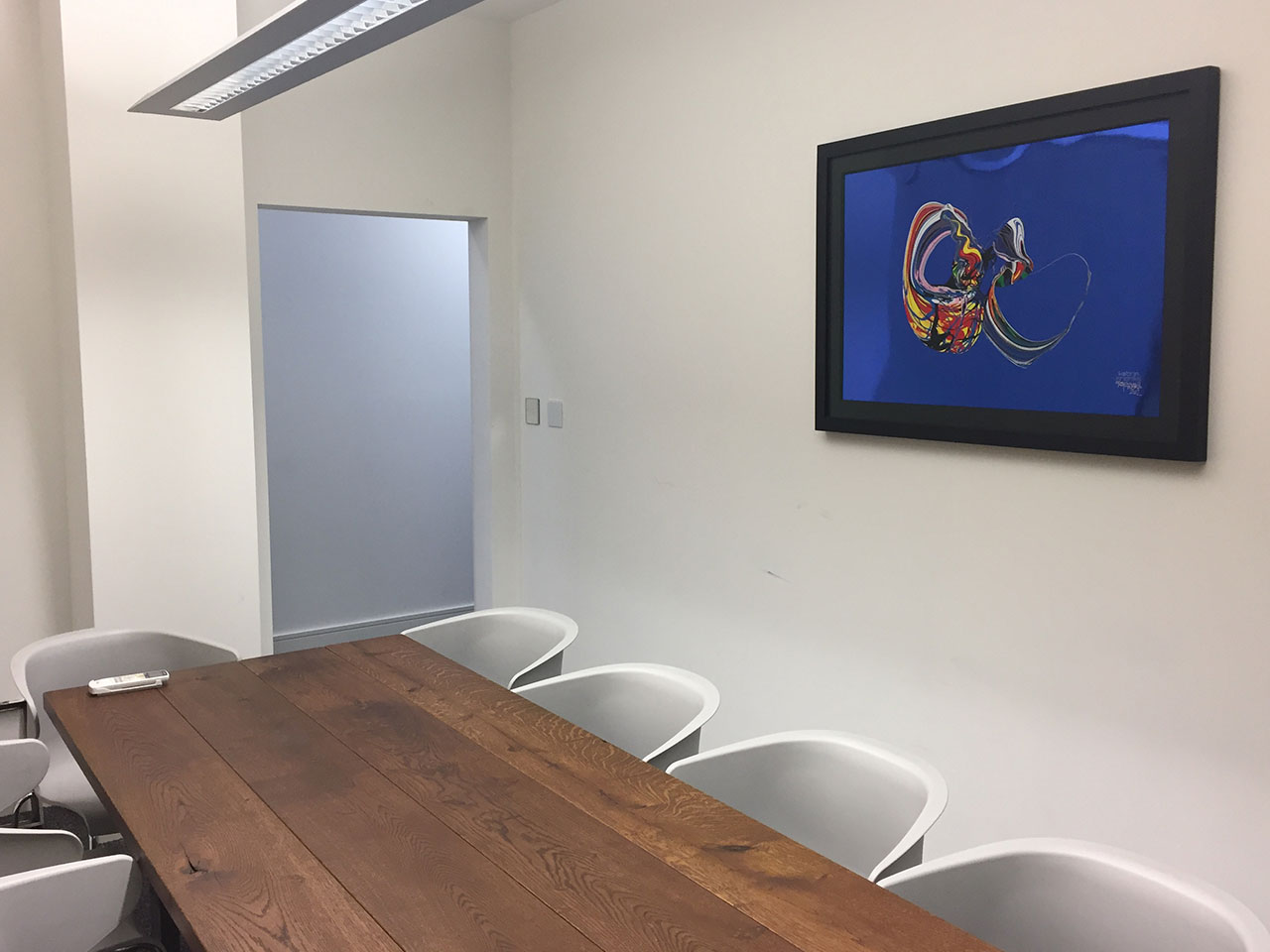 Enhanced Safety
The
EvoDrive+

is highly sensitive to resistance and obstacles. It can be connected to a wide variety of safety sensors and activation devices, or even set the door in low energy mode. The operator complies with all regulations in force, including European Standard EN16005 "Power operated pedestrian doorsets".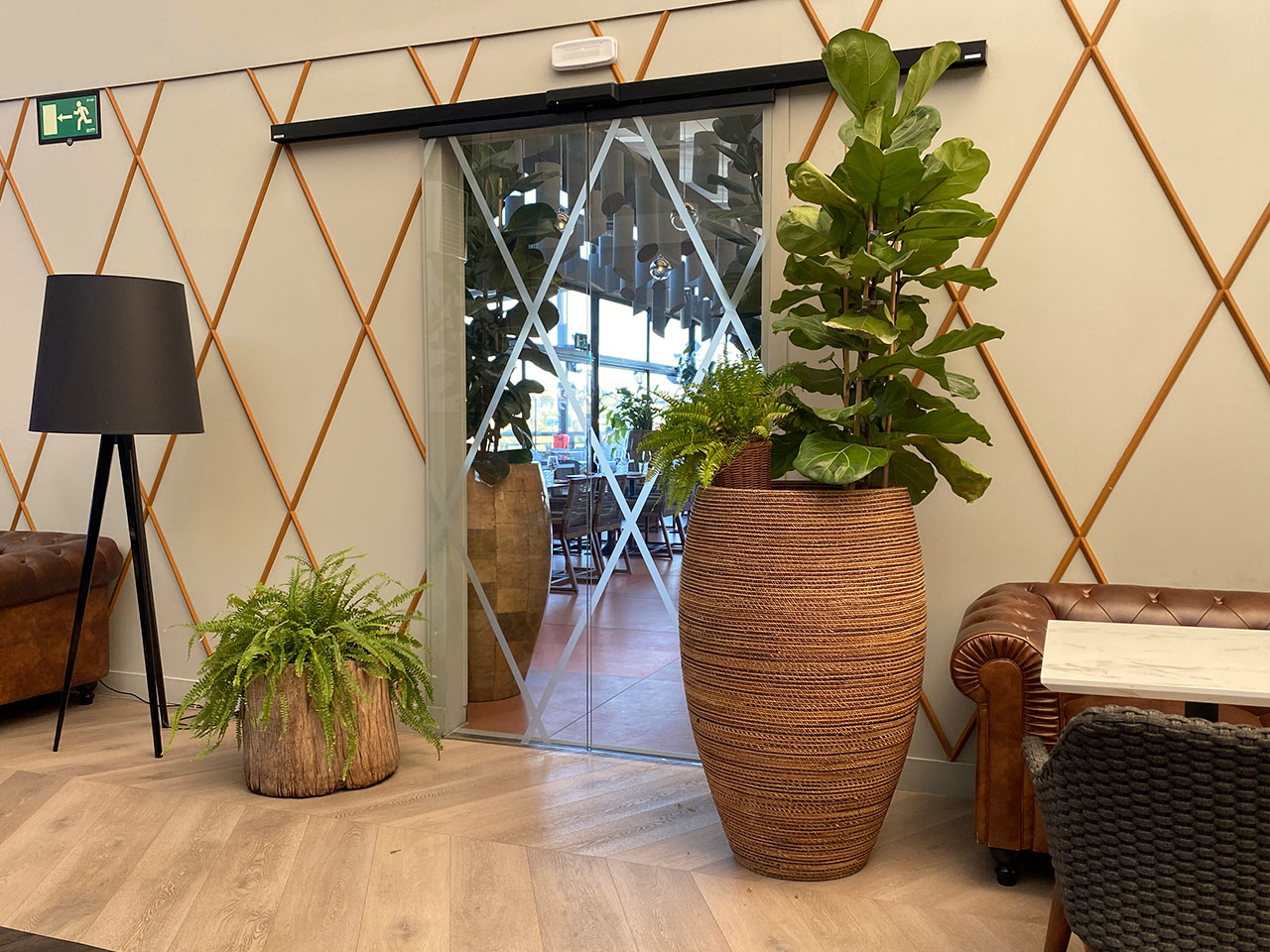 Low Maintenance Cost
The absence of belts, pulleys, reduction gears and other mechanical elements commonly used in traditional automatic doors, reduces the need for frequent maintenance and replacement parts. The
EvoDrive+

is easy to install and commission, and will operate for its entire life at a very reduced maintenance cost.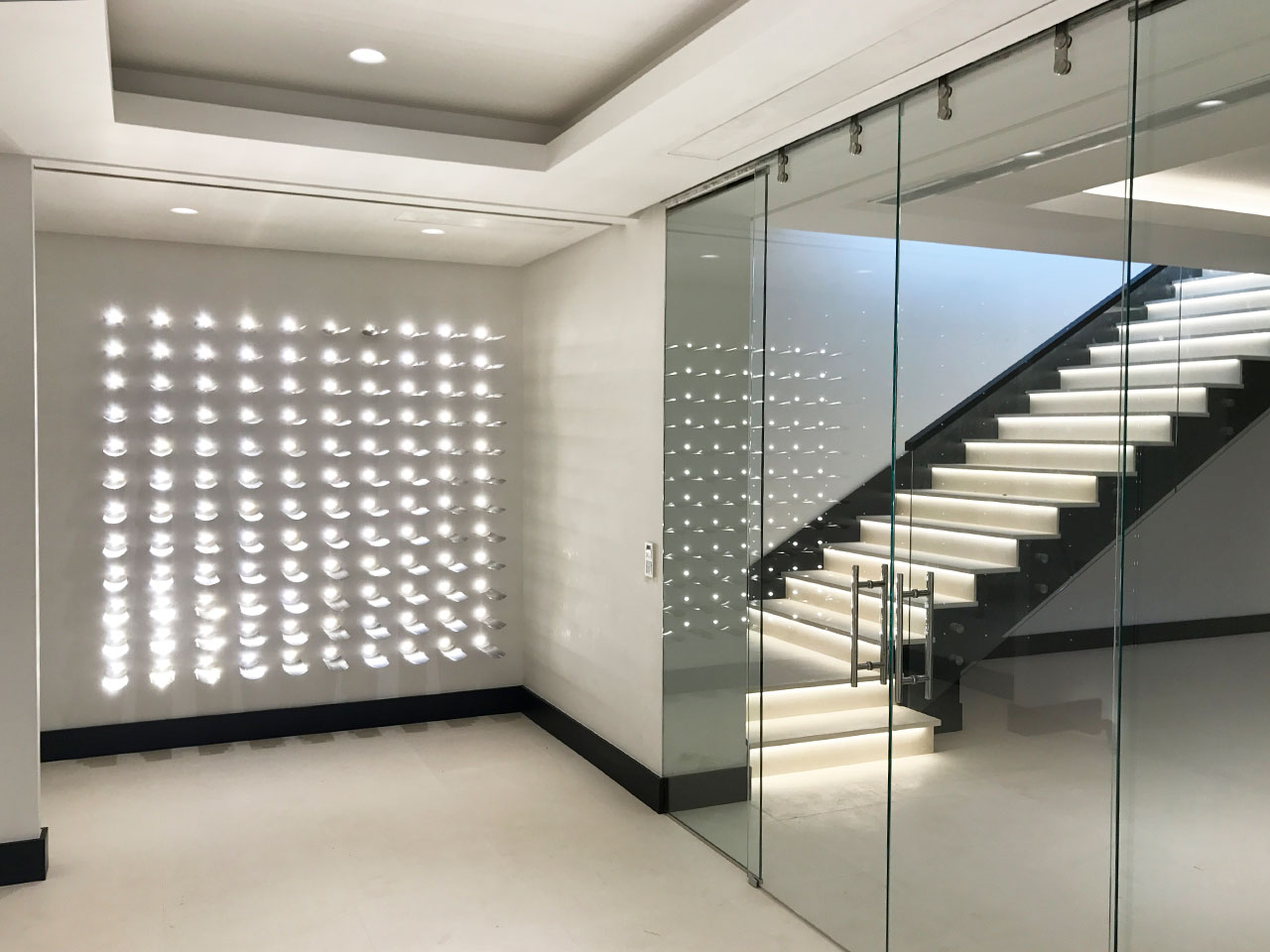 Highly Versatile
The
EvoDrive+

is so small and compact that it pairs stylishly with a variety of materials, ranging from glass to aluminium or timber, integrating perfectly in any kind of environment. A piece of architecture for creative minds.
Performance of an Automatic Door, Small as a Manual Door Track
The Technology
A
magnetic linear motor

consists of an electrically powered motor that instead of rotating, it produces a linear force using magnetic fields to create thrust and movement. The moving leaf slides thanks to a motor fixed to its upper part, which moves sideways along the operator by attraction and repulsion of the magnets attached along the header frame
Thanks to this technology, we avoid the use of reduction gears, pulleys, belts and other mechanical elements commonly used in traditional automatic doors, giving as a result, a very
compact and stylish

60 x 70 mm aluminium housing, a

quieter

and smoother motion and a

longer lifespan

, combining the compact size of a manual door track, with the performance and convenience of a normal automatic sliding door
Linear Motor

Conventional Motor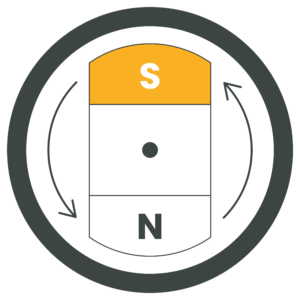 Take a Look inside the EvoDrive+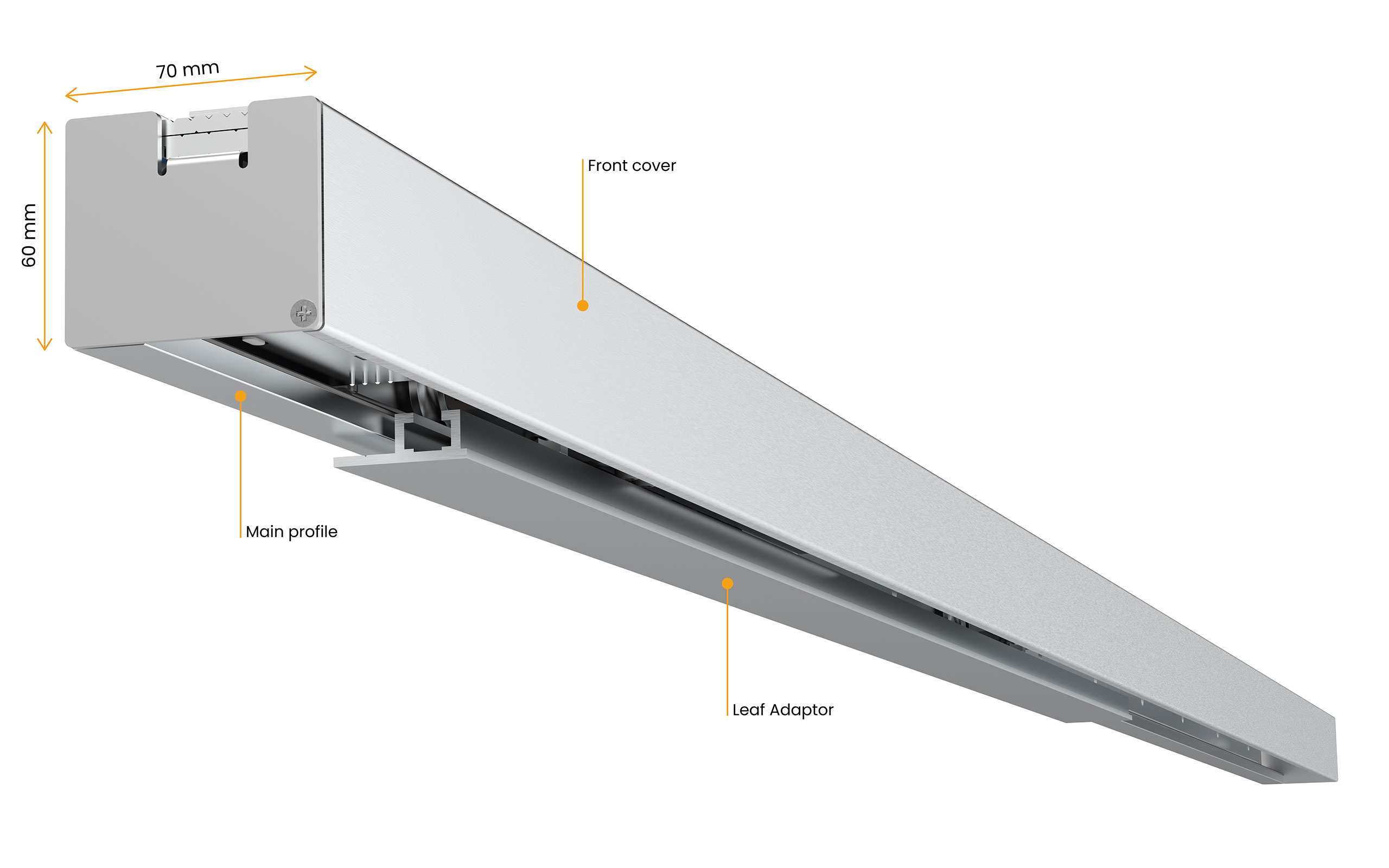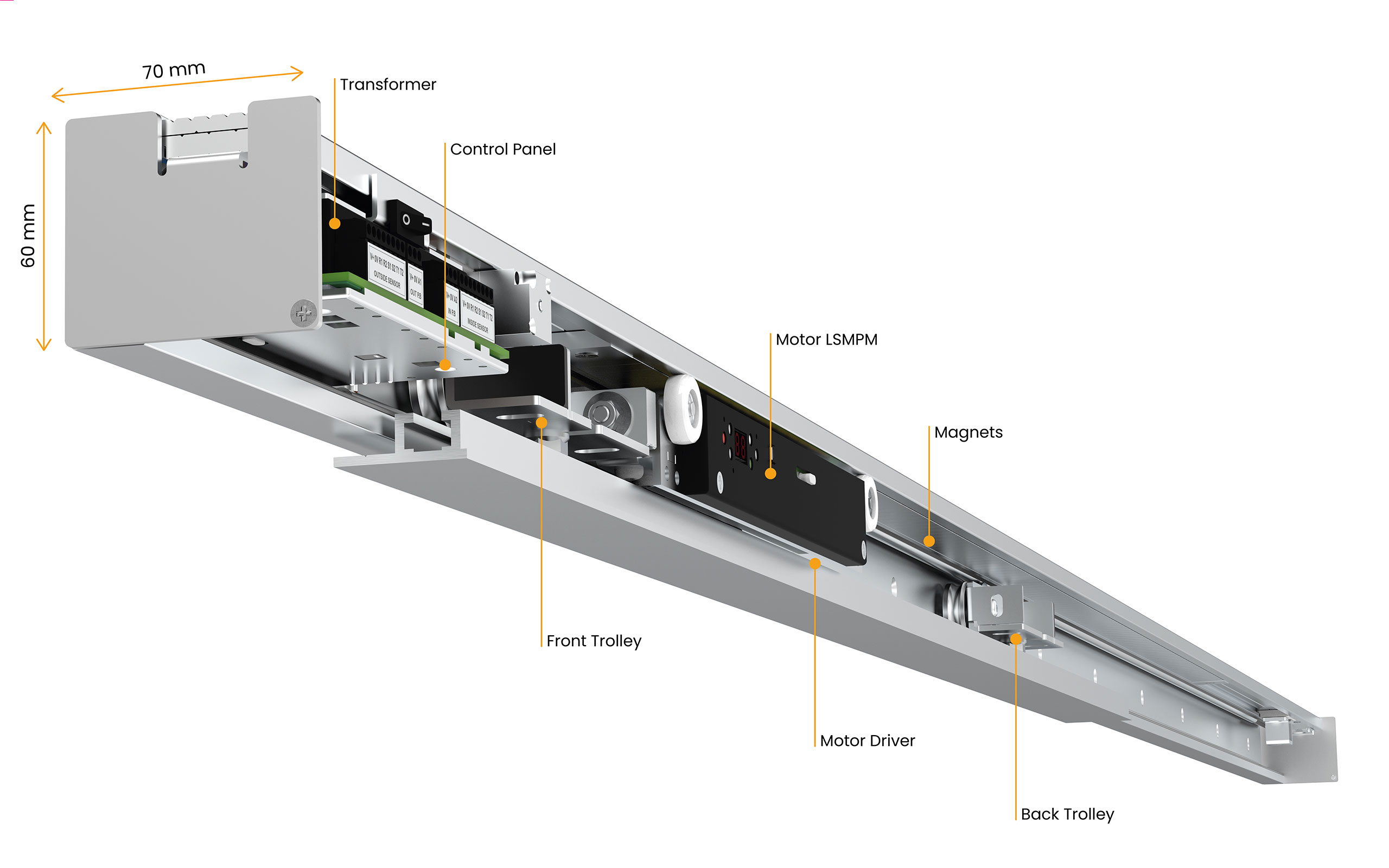 How about introducing something original and different in your projects? The EvoDrive+ operator is so small and light (ca. 15 Kg), that it can be fixed to a glass panel.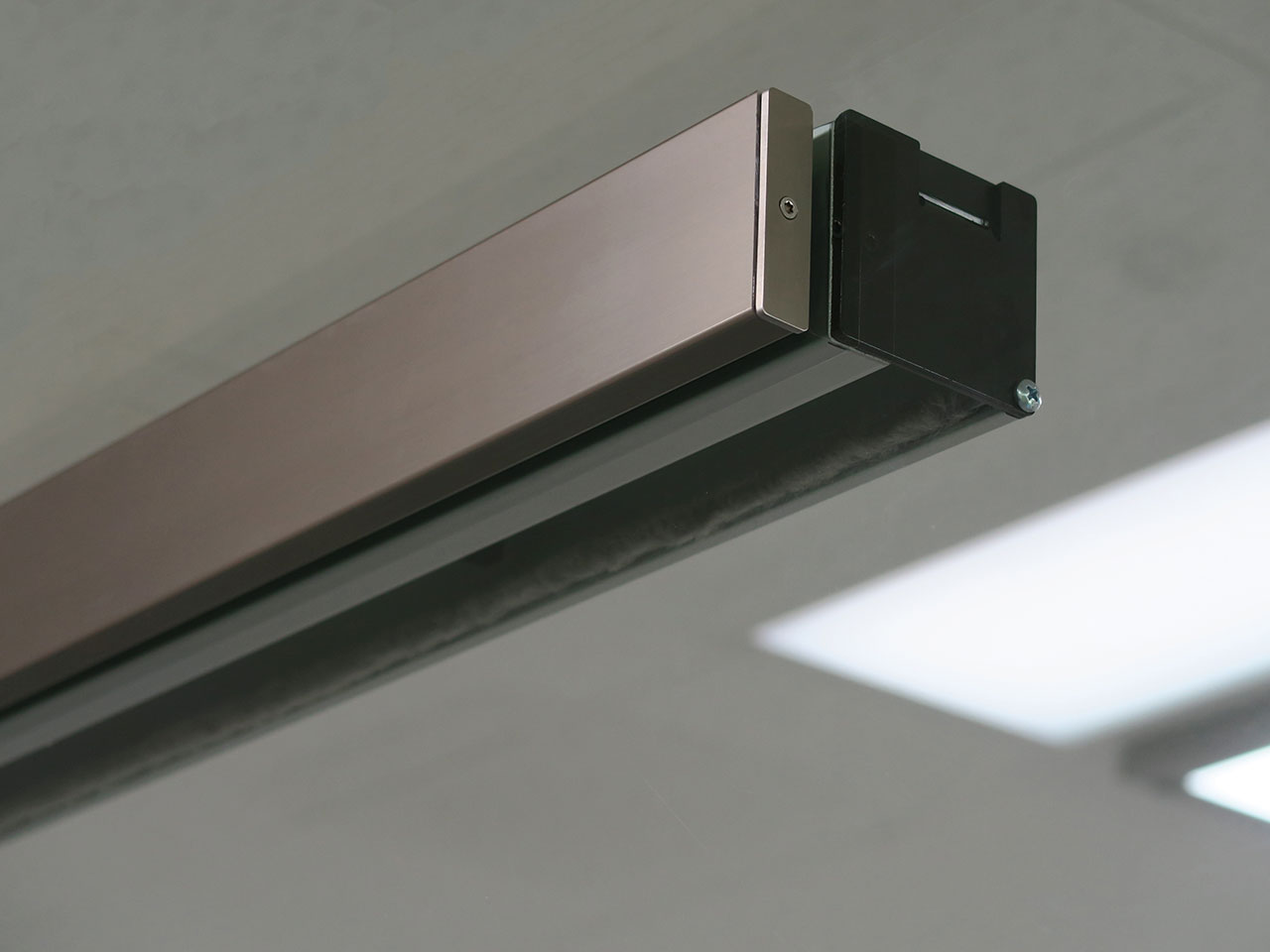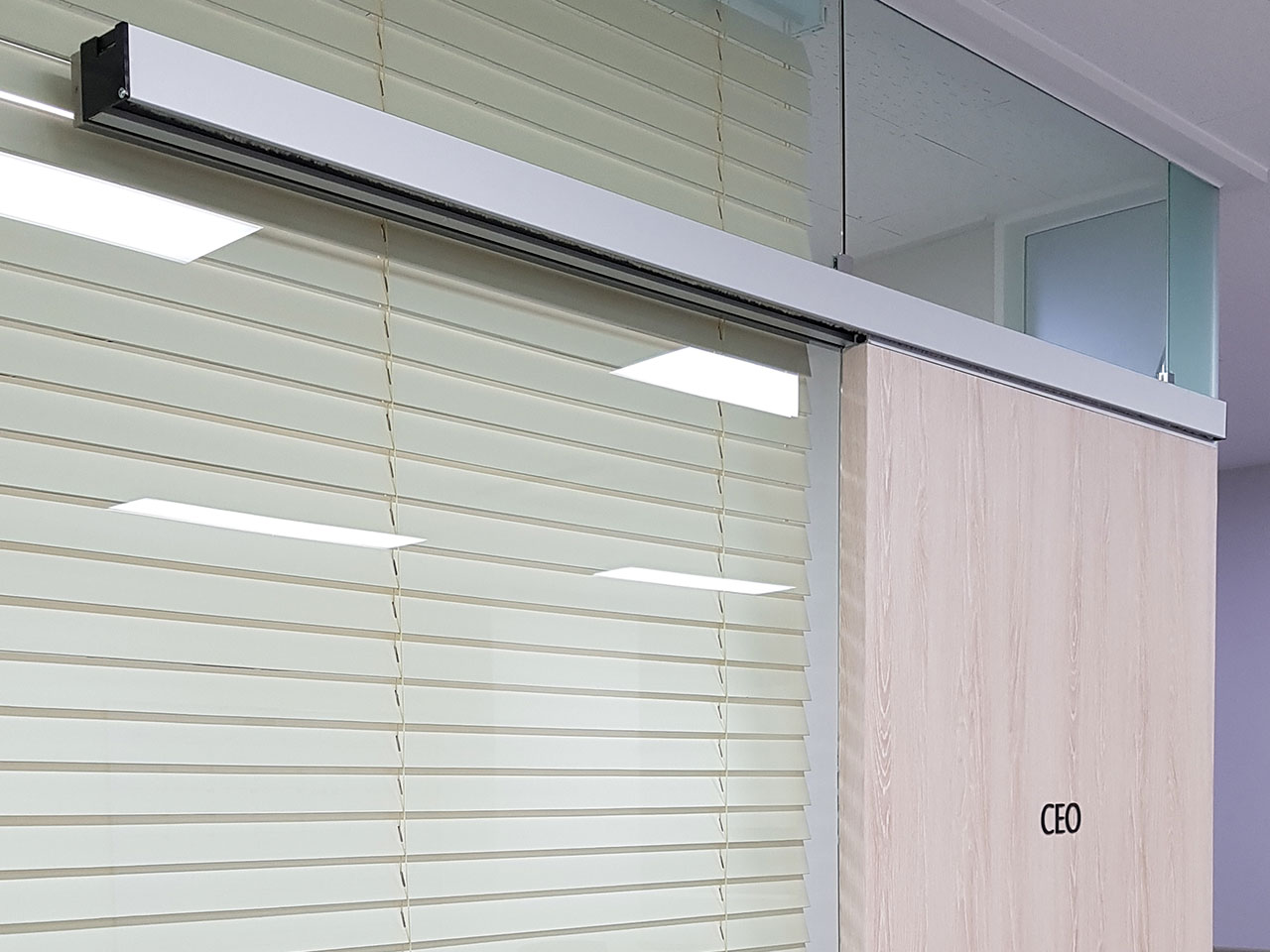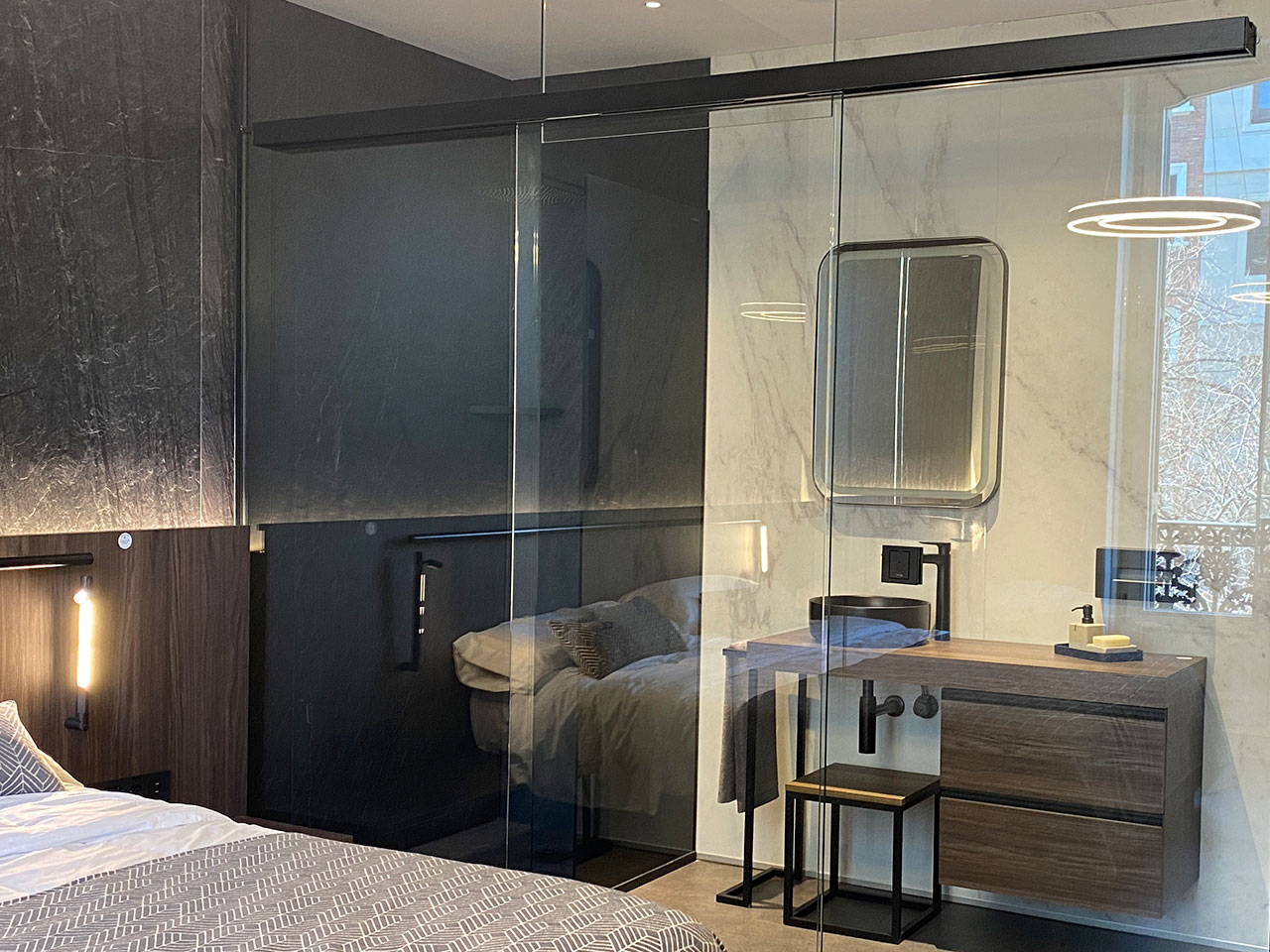 EvoDrive+ Automatic Door Track
Compact Aluminium Housing: only 60 x 70 mm
Min. Clear Opening:

750 mm

(1550 mm track)
Max. Clear Opening:

1400 mm

(2850 mm track)
Leaf weight: up to 80 Kg
Adjustable Opening Speed:

200 – 600 mm/s
Adjustable Acceleration and Braking Curves:

200 – 800 mm/s2
Low Operating Noise: ˂50 dB
Power Supply: 230/110V AC 50-60 Hz
Power Consumption::
– In operation: 80 W
– Peaks (0,5 s): 180 W
– Stand-by: 4 W
Electric three phase AC motor

: Type LSMPM (Linear Synchronous Motor with Permanent Magnets)
Tension: 24 VDC
Peak current: 7 A
Operating current: 3 A
Motor driver:
– Magnetic position feedback with 3 hall cells
– Motion control by means of a driver with field oriented control (FOC)
– Wireless communication via Bluetooth
Electronic Specifications
Microprocessor controlled (DSP)
Wireless communication
5 operating modes:
– Automatic
– Open
– Closed or Closed & Locked (with optional automatic lock)
– Exit Only / Access Control
– Public toilet mode (optional)
Adjustable parameters:


– Opening direction: right or left
– "Low energy" or normal mode
– Opening speed
– Closing speed
– Hold-open time
– Push & Go
– Push-to-Open / Push-to-Close
– Reduced opening
Conform to European norms and directives in force:
– Directive 2006/42/EC: "Machinery Directive"
– Directive 2014/30/EU: "Electromagnetic Compatibility (EMC)"
– Directive 2014/35/EU: "Low Voltage Directive (LVD)"
– EN 16005:2013/AC:2015: "Power operated pedestrian doorsets"
Activation and Safety Devices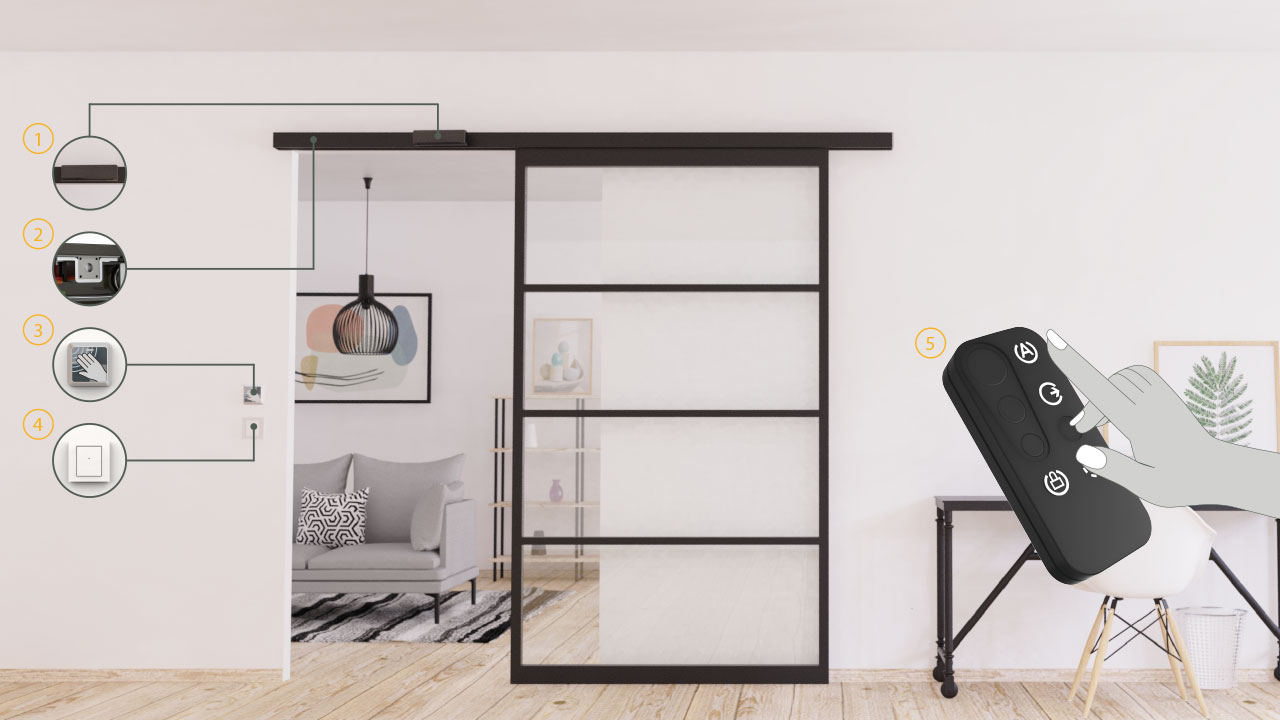 (1)

Activation and/or Safety Sensor
When the sensor detects presence or movement, the door activatesm opens and closes. It can also be used as a safety device
Blocks the door when the leaf is in closed position and the operating mode is in Closed or Exit Only mode
The door opens and closes by simply approaching your hand or elbow to the device
Press to automatically open and close the door. Optionally: press once to open, press a second time to close the door
Four operating modes: Automatic, Open, Closed, Exit Only.  Receiver incorporated in the main control board.  Pocked size transmitter – 12V DC battery
Push & Go | Push to Open, Push to Close
Push the door handle to automatically open and close the door. Optionally, push to open, then push to close
Types of Door Leaves
Click on the image to download the DWG and PDF drawings
Glass leaf with top rail
For 8 or 10 mm glass. The top side of the glass is glued to an aluminium rail with a special sylicone. Can be laminated or tempered glass
Aluminium framed leaf
Adaptor for 40 to 45 mm aluminium framed leaves
EvoDrive+ Brochure
Do you need more info?