At BAU 2017 exhibition in Munich, and FIPA 2017 in Valencia, we introduced the new and log time demanded "bi-parting sliding door" version.
Or we better call it simply "double leaf".  Thanks to magnetic linear motor technology, the EvoDrive automatic sliding door operator can move the 2 door leaves fully synchronized electronically.
Unlike traditional sliding door operators, where the movement of the two leaves is made by means of complicated and noisy drive belts, pulleys, dragging arms and reduction gears, the EvoDrive has none of that.  Only a linear motor moving the trolleys of each leaf.
One of the advantages is that now you can build double leaf doors with 2 leaves with different dimensions (asymmetrical), to take better profit of an opening with restricted side room: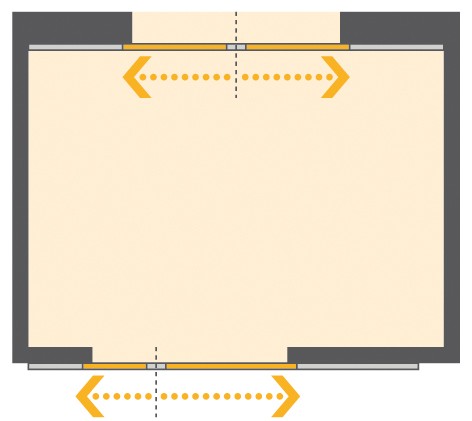 Both doors will open and close automatically, and fully synchronized.  Any of the door panels can be pushed to open ("push & go" function), and the two leaves will open simultaneously.  If any of the door panels is obstructed during the closing cycle, the two leaves will immediately stop and reopen automatically.
FULL ELECTRONIC SYNCHRONIZATION. NO BELTS. NO PULLEYS. SMOOTH AND SILENT